August 2021
In just a few weeks, FACHPACK, leading European trade fair for packaging, technology and processes, plans to open its doors and welcome interested parties both virtually and on site in Nuremberg from 28-30 September 2021. In order to provide the best possible protection for exhibitors and visitors alike, Messe Nürnberg has drawn up a hygiene plan. We are confident that face-to-face meetings will be possible again this year. We would be happy to show you smart transport monitoring with the ASPION data loggers - and especially how easy shock/vibration monitoring now becomes, even without expertise.
Save your free e-ticket now and feel free to make an appointment. We are already looking forward to your visit:
28-30 September 2021, Messe Nürnberg, Hall 7A, Stand 515d
July 2021
The new version 5 offers a whole range of new functionalities for the operation of ASPION data loggers. A unique feature is the shock/vibration test in accordance with the transport standard, which the ASPION G-Log 2 data logger is the first of its kind to have. Also new in the smartphone apps are multi-readout, live view, as well as graphs and shock details and several other convenience features for all data loggers.
Get to know the unique functions and innovations!
The new PC software is available via download in the ASPION customer portal, the smartphone apps via the respective app stores.
Read more details on the shock/vibration test according to the transport standard in the press release.
May 2021
In order to provide industrial partners in China with ASPION data loggers, ASPION and Guangzhou Hongke Electronic Technology Co., Ltd. have concluded a cooperation agreement. As a high-tech company, HongKe serves industrial partners in the fields of medical electronics and control, automotive electronics and automation with its nine subsidiaries throughout China. To meet the monitoring and protection requirements of high-value goods in the supply chain, HongKe now relies on ASPION's professional data loggers.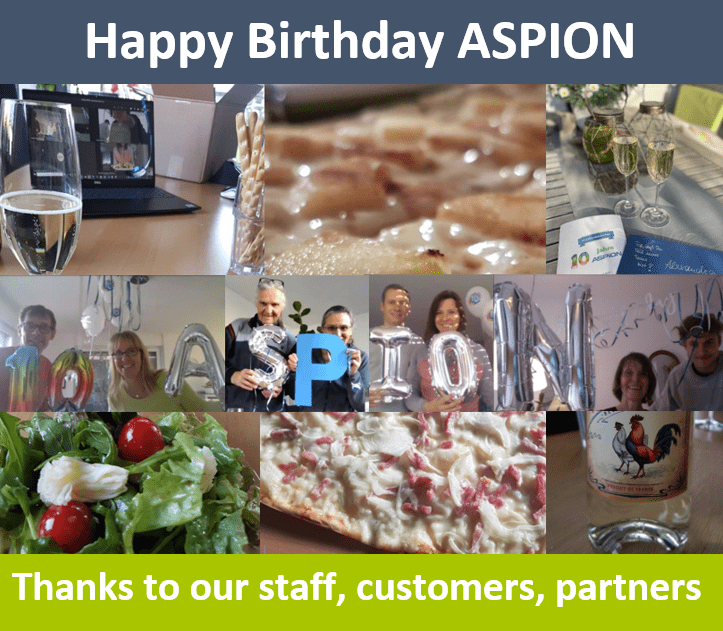 April 2021
ASPION celebrates 10-year company anniversary
On 13 April 2011, Michael Woehr founded ASPION GmbH as a sole proprietor. The goal of his development was autonomous smart sensors with long runtimes and simple operation for Industry 4.0 applications. The first standard product was born in January 2016 from the customer requirements of an internationally operating mechanical engineering company: the ASPION G-Log shock sensor with wireless communication, intuitive PC software and smartphone apps. Two further product variants of the data loggers and the extensive expertise in shock / impact detection and its interpretation now inspire more than 500 international customers of all sizes in numerous industries.
March 2021
Data logger record a variety of environmental conditions during transports, which are used for analysis. Interpreting climate data such as temperature and humidity is not difficult. The situation is different when it comes to evaluating and analysing shocks and impacts, which can have sometimes devastating consequences on sensitive goods in transit. How to analyse and evaluate such undesired accelerations is explained in the data logger analysis using the example of ASPION shock sensors.
March 2021
With changes on 01/01/2021, the new section 5.5.4 of ADR 2021 comes into force, which regulates the handling of lithium-ion batteries in data collectors. The good news first: Handling with ASPION data loggers remains as simple as usual, a labeling obligation is still not applicable. Also, all ASPION G-Log shock sensors are IATA DGR compliant and do not require any special handling, not even for air cargo.
The updated whitepaper ASPION Data Loggers and Transport Regulations, available in our customer portal, explains the background and regulations in detail, provide links to important information and gives useful practical tips.
January 2021
ASPION transport data loggers are now available to customers from our new distribution partners. We look forward to a successful cooperation with these companies:
FJ-TEC Industriebedarf e.K., based in Wetter, Hesse, supplies industrial companies throughout Europe with its range of around 25,000 articles. TransPack Krumbach, with its focus on the areas of transport packaging and load securing, has a range of over 8,000 articles available for its industrial customers. WITO Automation AG, based in Switzerland, is a service and trading company in the field of industrial automation technology with customers from the mechanical and plant engineering sector.
January 2021
Software Made in Germany" seal of quality awarded for the 5th time
A well thought-out UX design creates enthusiastic user experiences. This is not only confirmed by our customers, but especially by the renewed award of the quality seal 'Software Made in Germany' with the main features "100% Service, 100% Quality, 100% Future". For the 5th time in a row ASPION receives the seal of approval for its ASPION G-Log system with data loggers, software and apps.
The Bundesverband IT-Mittelstand BITMi e.V. (German Association of IT SMEs) awards the seal to medium-sized companies that develop products and software that stand out for their well thought-out design, tried-and-tested solutions, continuous innovations and competent, comprehensive customer service.
January 2021
Happy birthday ASPION G-Log: Exactly 5 years ago on 7 January 2016, our first data logger in series production saw the light of day! Today, our shock sensors in three versions accompany valuable goods from our more than 500 industrial customers around the globe every day. The data loggers, ASPION G-Log Manager PC software and smartphone apps are constantly being further developed and have been very easy and intuitive to use right from the start. The positive customer feedback inspires us and is our daily driving force for further developments with a special user experience!
December 2020
A good deed every day - that is what we want to live during the Advent season.  Because helping makes happy. That is why we are supporting the 24 good deeds Advent calendar this year: Every day a door to a better world opens and every day until Christmas a concrete project is supported. Whether health, education, care or our nature, each project is carefully selected by the makers of 24 GUTE TATEN e.V. Experience which project conjures up bright faces day after day.
November 2020
"The monitoring of goods in transit by means of data loggers is an important technology, not only for the proof of quality, but also for liability reasons, which is spreading ever faster. Especially when it comes to expensive, durable goods, their use pays off very quickly, as the following example of data loggers for monitoring the transport of solar panels on their way from China to the installation site shows".
Read the full report in the Industrial Communication Journal (in German language)
October 2020
The new version 4 of the ASPION G-Log Manager ensures efficiency in handling ASPION data loggers. Many smart functions make the use of the data loggers for transport monitoring even clearer, more transparent and more flexible: transparent usage list, data rate with 1,600 Hertz, manipulation protection, map view, network and archive functions, ... and more. Get to know the highlights in detail.
New Version 4 - Highlights in detail
The new PC software is available for download in the ASPION customer portal.