November 2019
ASPION sensors are easy to handle for air freight:
Lufthansa Cargo approved and batteries no dangerous goods
All ASPION G-Log sensors are tested and approved by Lufthansa Cargo and listed accordingly. Also, the button cells used are not dangerous goods, as the amount of lithium contained is far below the quantities specified in the guidelines. In addition, our battery manufacturer declares that the CR2032 battery used is exempt from UN3091 and is therefore considered "non-dangerous good". Thus, all ASPION sensors are fully airworthy.
Further details in the ASPION customer portal
Photo by Lufthansa Cargo AG/FRA F/CI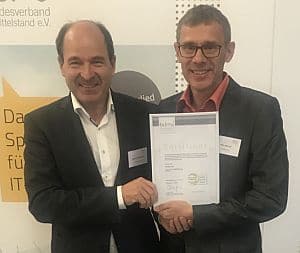 October 2019
ASPION is honored with "Software Made in Germany" seal of approval
"Software Made in Germany" stands internationally for quality, innovation and digital sovereignty. As a manufacturer of smart data loggers for transport monitoring, ASPION receives the coveted seal of quality for its ASPION G-Log system for the third time. Vice President Martin Hubschneider of the Bundesverband IT-Mittelstand e.V. (Federal Association of IT SMEs, BITMi) presented the award to ASPION founder Michael Wöhr on October 31, 2019 at the Fraunhofer IAO in Stuttgart. According to Hubschneider, the renewed award of the seal of quality underscores the high quality standards of particularly user-friendly and sustainable software and apps that ASPION pursues for its international customers. The initiative "Software Made in Germany" is supported by the German Federal Ministry of Economics and Energy.
September 2019
FachPack is regarded as one of the most important European trade fairs in the field of packaging. Many visitors experienced the new generation ASPION G-Log 2 up close and got to know the possibilities of smart transport monitoring for sensitive goods. We would like to thank you for the many interested discussions and the great feedback!
This inspires us to provide you with the ASPION product family, an efficient and at the same time simple as well as cost-effective solution for the professional monitoring of your sensitive goods.
August 2019
FachPack 2019: New transport data logger passes extreme field tests
"ASPION G-Log 2", the latest generation of its award-winning transport data logger, is delivered in autumn 2019, the devices will be put through their paces in real tests. The sensor has proven its reliability on selected truck transports within Europe, several sea transports, e.g. to South Africa, and most recently on a mountain tour to Kilimanjaro.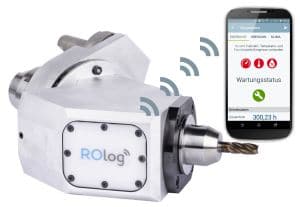 February 2019
Smart sensor technology "made by ASPION" is now also used in the manufacturing industry: It provides live operating data of the milling and spindle head solutions of the Vaihingen-based family-owned company ROMAI Robert Maier GmbH. Under the name ROlog, ASPION Sensortechnik logs speeds, climate data, operating hours and applications, and outputs the data wirelessly via NFC or Bluetooth to a dedicated smartphone app.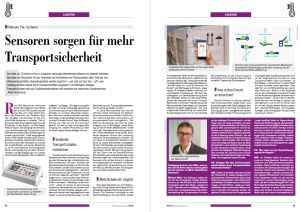 December 2018
"Sensors ensure more transport safety", "Flight recorders for goods transport" or "Transport safety thanks to smart sensor technology" are the headlines of the latest press reports. Numerous trade media repeatedly report on ASPION smart shock sensors, Made in Germany.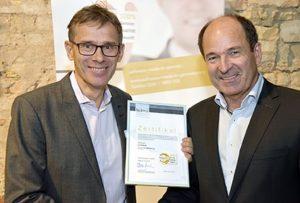 November 14th, 2018
"100 % service, 100 % quality, 100 % future" - these are the main traits on which German association Bundesverband IT-Mittelstand (BITMi e.V.) annually awards its seal of approval. On November 9, 2018, ASPION was awarded the seal for the second time in a row for the software and apps for their software and apps accompanying G-Log shock sensor solutions.
BITMi Vice President Martin Hubschneider presents the award to Michael Wöhr, Founder and Managing Director of ASPION (from right to left).
November 7th, 2018
ASPION Finalist at Arrow Innovators Award 2018 with G-Log 2
With the next generation of its shock sensor ASPION G-Log 2, ASPION became a finalist at the Arrow Innovators Award 2018. On November 7, 2018, Martina and Michael Wöhr received the certificate at Arrow Central Europe in Neu-Isenburg near Frankfurt. With this award, Arrow annually honors innovations from the fields of electronics and electrical engineering.
pictured from left to right: Joachim Klein, Sales Operation Manager DACH, Arrow, Martina and Michael Wöhr, ASPION, Thomas Reisinger, VP Sales DACH, Arrow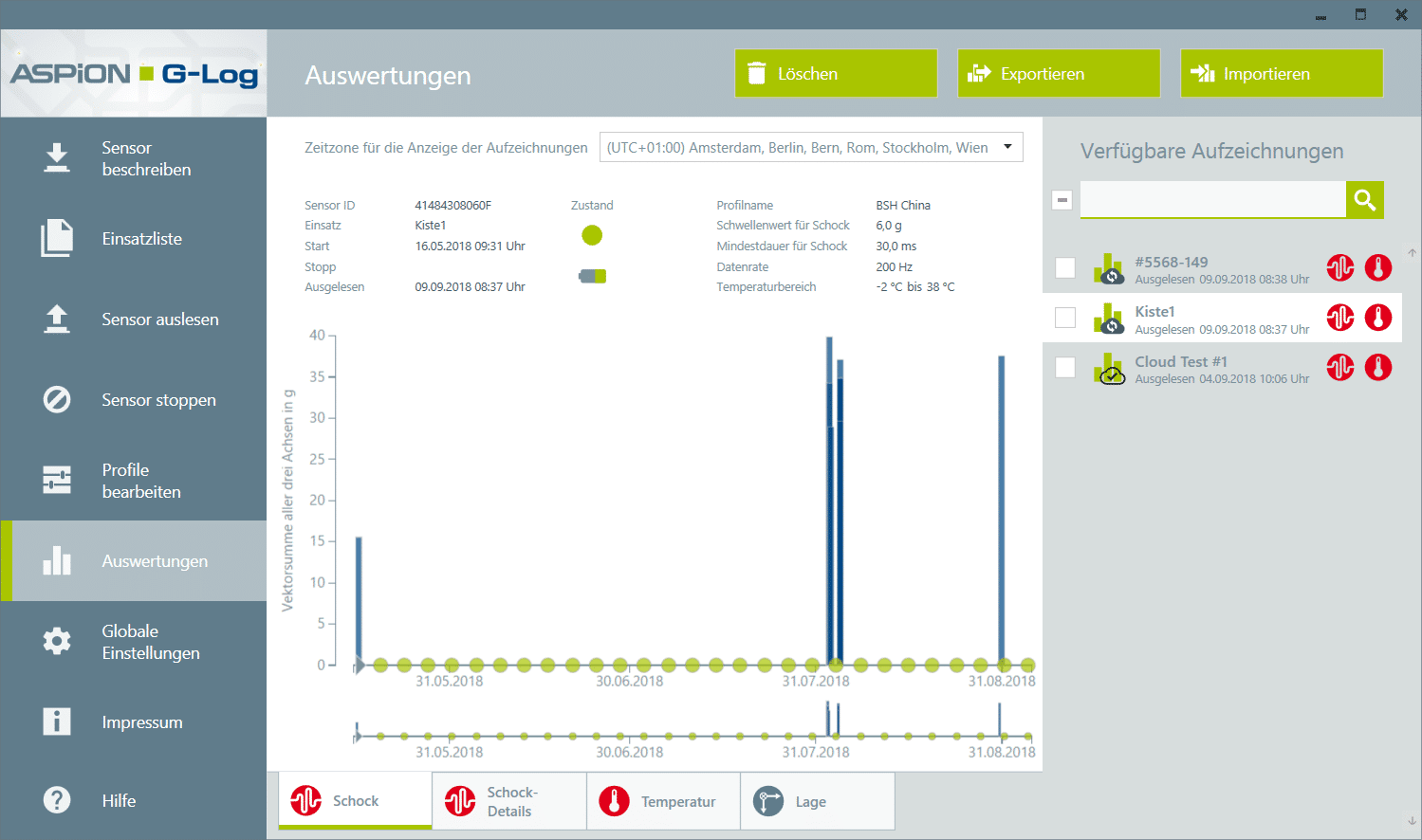 October 2018
User friendliness and ergonomics have been further enhanced with the new version 2.5. New features include exporting and importing profiles so that they can be easily exchanged with service providers and business partners. Bugs have also been fixed.
Significant enhancements and improvements are available in the ASPION G-Log Premium Edition. With its powerful cloud, positioning, and network functionalities, usîng a multitude of sensors in a corporate environment becomes even more comfortable.
The new version 2.5 is immediately available for download in the customer portal - for updates and new installations.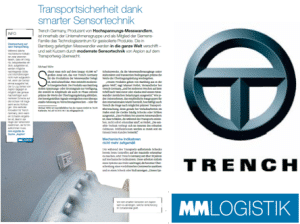 October 2018
MM Logistik reports on the use of sensors at Trench
"Trench Germany, a manufacturer of high-voltage instrument transformers, is the technology center for gas-insulated products within the Siemens group. The instrument transformers manufactured in Bamberg are shipped all over the world - and are as of late being monitored during transport by Aspion's state-of-the-art sensor technology. [...] A valuable innovation for Trench Germany, because when damage occurs it's usually determined by the insurer who has to pay for it."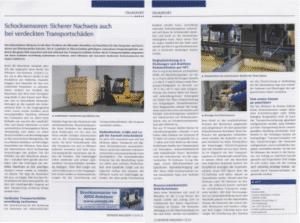 October 2018
User report in SensorMagazin
"... The shock sensors used by Uhlmann ensure that shocks or impacts are documented and recorded. Thus, proof of damage having occurred during transport due to improper handling can credibly be brought forward against the transport insurance. Already during the test phase, a costly transport damage could be detected with the recordings of the sensors, thereby avoiding considerable expenses. For Uhlmann, the investment in the sensors has paid off several times over from the very beginning ...".
10.09.2018
Technical contribution in Versicherungswirtschaft heute
Transport insurance is growing as people order more and more online. To ensure that the goods arrive safely, there are transport monitoring sensors. The Karlsruhe-based company Aspion is a manufacturer of such technology and Managing Director Michael Wöhr explains in his guest article how technology can help the insurance industry to cut costs.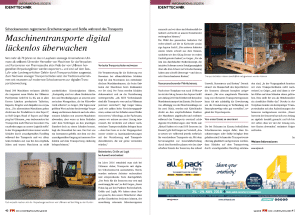 June / July 2018
User report in FM & ConTraiLo
As the world's leading manufacturer of machines for packaging and cartoning pharmaceuticals, Uhlmann relies on state-of-the-art shock sensors for digital transport monitoring. How the long-established company uses the ASPION sensors, and what further benefits the machine manufacturer can be read in the current user reports in the FM trade magazine and in the ConTraiLo trade magazine from July 2018.
28.05.2018
Deployment to be expanded
HELLER relies on ASPION G-Log
As one of the world's leading manufacturers of state-of-the-art machine tools and complete manufacturing systems for machining, Gebr. Heller Maschinenfabrik from Nürtingen now uses shock sensors from ASPION to transport its machines. Helmut Sobotta, Head of Quality, and Martin Ruess, Head of Shipping, agree: "Due to the simple handling and the robustness, we will continue to expand the system."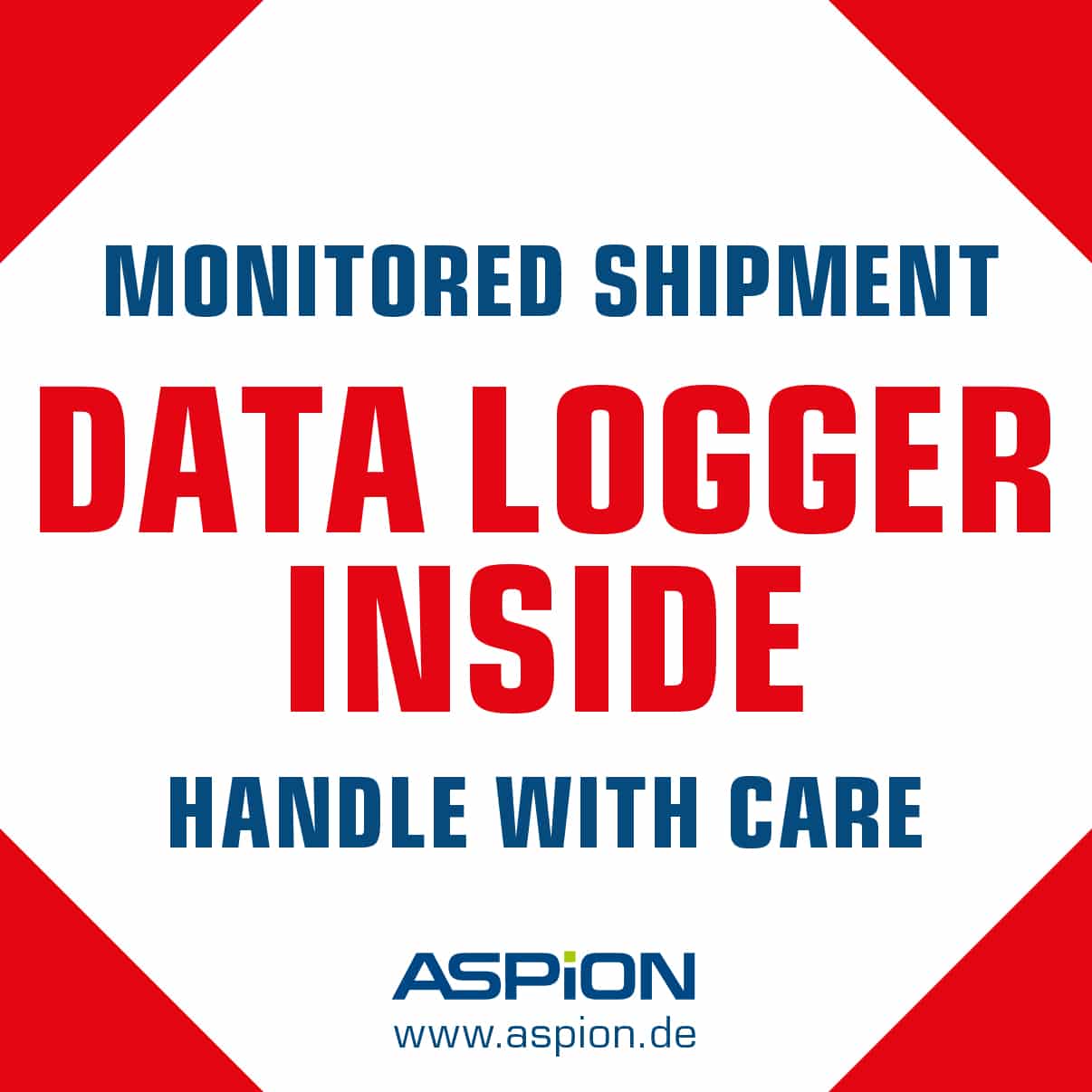 30.04.2018
Sensitizing for sensitive goods
Sticker "Datalogger inside"
Handling of valuable freight in the course of increasing transports is not always executed as carefully as manufacturers of sensitive goods wish to.
The new "Datalogger inside" sticker now ensures greater sensitivity and transparency: It comes free with every sensor in the standard version IP 50, and upon request for the waterproof version with IP 65. It measures 21 x 21 cm, adheres particularly well to rough surfaces and is resistant to cold and heat.
30.04.2018
DieKistenspezialisten.de
Industrial Packaging Heidenheim relies on ASPION sensors
In the field of heavy goods packaging, as well as for very sensitive products, customers of IVH Industrieverpackung Heidenheim GmbH can rely on the documentation of excessive loads along the logistics chain: The company uses ASPION shock sensors for their customers from the special machine construction sector. "Especially the mobile readout via smartphone provides for enormous transparency, and thrills our customers again and again", says Peter Hoffmann-Pichler, managing director of IVH.