Transport data logger ASPION G-Log 2:
Transparency for your supply chain!
New: ASPION G-Log 2 records shock and climatic conditions
The new transport data logger ASPION G-Log 2 measures and records shock events - traceable in all three axes and for the highest shocks up to millisecond level. At the same time, it records climate data such as temperature and relative humidity based on intervals or events. This makes the transport loads and environmental conditions for your goods transparent, traceable and assignable at all times - especially in the event of damage. Reduce costs for transport damage and increase your process quality!


The advantages at a glance
Fields of application
The new ASPION G-Log 2 - just like its little brother ASPION G-Log - has been specially developed for monitoring the transport of sensitive goods and merchandise. The transport data loggers collect valuable information, especially for manufacturers in mechanical and plant engineering, in the automotive and electronics industry as well as in the logistics and packaging sector. In addition, they are successfully used by companies in a wide range of industries for testing packaging, shock loads during loading, vibration tests and much more.
With the intelligent recording of climate data such as temperature and relative humidity - interval and event-triggered - the data logger is suitable for monitoring temperature and humidity-sensitive products during transport and in warehouses.
How it works
The ASPION G-Log 2 data logger is attached directly to the transported goods, initialized with threshold values and activated immediately or time-controlled. During the entire transport route, it stores events that occur: Shocks, temperature and humidity fluctuations that lie outside the preset tolerance limits - or permanently within the set interval. Equipped with NFC and BLE for wireless communication, the data can be read, evaluated and transmitted at any time using the smartphone app. The analysis of the data is carried out conveniently with the free PC software.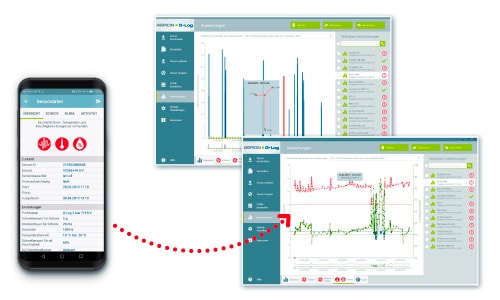 (Video in German language)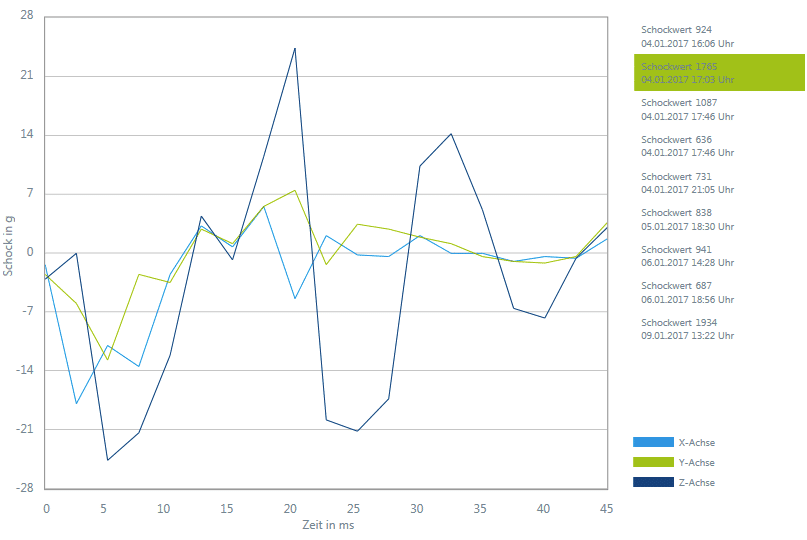 Meaningful details at millisecond level
The data of a shock event in detail are essential for evaluations and interpretation in the event of damage. The sensor records the temporal course of a shock on all three axes on the millisecond level. This section of a total of 19 values is used for the exact analysis of the course, allows conclusions to be drawn about the effects and can make a significant contribution to the assessment in the event of damage and to packaging optimization. All in all, a sensor permanently stores the very first shock event as well as the other eight highest shock events in this granularity. Thus the ASPION shock sensors deliver a unique depth of detail in contrast to all other data loggers in the same price range.
The ASPION G-Log 2 starter package contains:
2 sensors
1 USB card reader
2 sticker "data logger inside"
Software and App
Price: 259 Euro
Order your starter package now and protect your goods.