IoT live tracking with ASPION L-Track:
Transport monitoring in all dimensions.
Asset tracker for secure supply chain
The new IoT transport data logger ASPION L-Track monitors your transports worldwide - in real time with 360 degree live tracking. The connected Internet of Things (IoT) platform provides round-the-clock access to the current location and condition of goods and immediately informs in case of unusual incidents. This makes the current transport loads and environmental conditions for high-value transport goods transparent, traceable and assignable at all times - especially in the event of damage.
The various components interact to provide an integrated end-to-end solution for live transport monitoring "made in Germany".


The advantages at a glance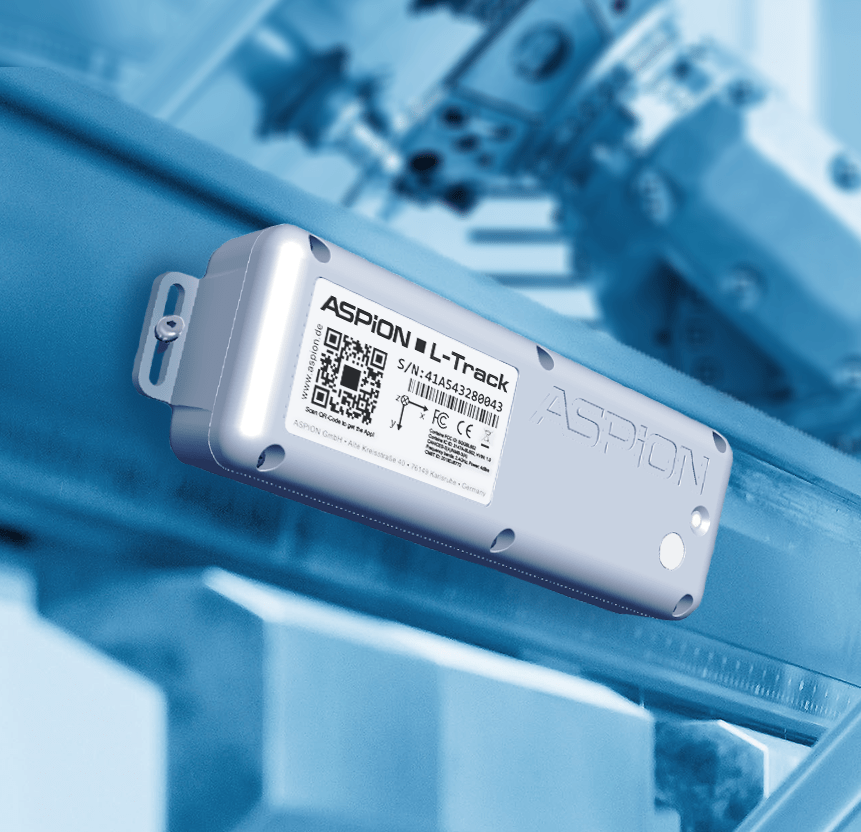 Application areas: 360 degree live tracking
The new ASPION L-Track - just like its predecessors in the ASPION G-Log series - has been specially developed for monitoring high-value and sensitive transport goods. Particularly for manufacturers in the mechanical and plant engineering, automotive and electronics industries, energy sector as well as logistics and packaging industry, the IoT asset trackers collect valuable information and provide real-time updates about the location and condition of the goods. Damaging transport loads and environmental impacts are reported and visible immediately after they occur. Thus, unforeseen events can already be reacted to during transport and potential damage can be averted. Due to its energy-optimized mode of operation, the ASPION L-Track is particularly suitable for asset tracking with multi-year durations for goods deliveries and in warehouse logistics. This guarantees transparency and security in your supply chain - anytime, worldwide and long term.
How the ASPION L-Track works
The ASPION L-Track is attached directly to the transported goods and can be activated in just a few steps. During the entire transport route, it logs and transmits all events that occur: Position data, shocks and impacts, temperature and humidity values, air pressure and other measured values. The transmission of sensor data to the ASPION Cloud IoT platform is interval-based via mobile communications and works in more than 140 countries worldwide thanks to LTE-M and 2G as fallback. In the ASPION Cloud, the sensor data can be viewed at any time and threshold values can be set and changed, even during transport.
ASPION Cloud IoT Platform: Easy data evaluation in real time
With the ASPION Cloud, a powerful web-based IoT platform, location and sensor data of the L-Track devices can be easily displayed and evaluated. The platform provides around-the-clock access to the current location and status of the IoT trackers, keeping users informed of the status of their delivery at all times. In addition, alarms and thresholds can be set to be notified immediately of any unusual occurrences. Groups can be used to sort devices by different deliveries, locations or departments. Intuitive dashboards help to quickly and easily analyze sensor data and draw meaningful conclusions.
Learn more now
Have we sparked your interest? Then simply send us your contact information by email to receive all new information about the ASPION L-Track.
The ASPION L-Track will be available in the 1st half of 2024.