Functions of all ASPION digital shock data loggers
3-axis acceleration sensor and climate sensor
ASPION G-Log shock data logger are used for the transport monitoring of goods and merchandise. The data logger record vibrations, shocks and climate data - depending on the variant temperature / humidity - according to the event principle. An integrated 3-axis acceleration sensor with up to ± 24 g per axis as well as an integrated climate sensor enable the complete recording of measured values that are below or above a predefined threshold value. The shock data logger can be used several times for different transports and are therefore particularly cost-effective. Each shock data logger is provided with a unique ID, which is noted on the housing and additionally stored in the barcode.
Transport monitoring in a nutshell
Recording shocks in the supply chain
Easy handling with ergonomic PC software & smartphone app
Meaningful details at millisecond level
Shock recording with date and time (all 3 axes with g-value) is extended by shock details: The data of a shock event in detail are essential for evaluations and interpretation in the event of damage or for packaging optimisation. The shock data logger records the temporal course of a shock on all three axes up to 24 g per axe at millisecond level. This section of a total of 19 values is used for the exact analysis of the shock course, allows conclusions to be drawn about the effects and makes a significant contribution to the assessment not only in the event of damage. All in all, a sensor permanently stores the very first shock event as well as the other eight highest shock events in this granularity in a separate memory. Thus the ASPION shock sensors deliver a unique depth of detail in contrast to all other data loggers in the same price range.
Various versions
The shock sensors are currently available in three versions. The classic ASPION G-Log data logger is housed in a small, compact housing (protection class IP 50) and is primarily suitable for use in transport packaging for measuring shock and temperature. The new generation ASPION G-Log 2 also offers further functions such as humidity measurement, replaceable battery, BLE to read out data through transport boxes and much more.
The ASPION G-Log Waterproof is designed for use in rough environments to record shock and temperature. The waterproof version with encapsulation (protection class IP 65/67) allows outdoor use. The data logger is protected against both water and dust. The battery of these shock sensors cannot be replaced due to construction reasons.
In order to verify the correctness of the recorded values, the sensors were subjected to a shaker test in an accredited test laboratory. Result: The recorded values show a deviation of only 2.5%. The housing does not cause any damping either. In addition, further resistance tests such as temperature shock tests with the sensors were carried out with consistently positive results.
The ASPION customer portal provides you with valuable information: The latest version of the PC software, manuals, answers to questions about the sensor, whitepapers e.g. effects on accelerations, and much more.
Register here and get more details about all sensors!
ASPION G-Log App for Smartphones - get the app and watch the videos on YouTube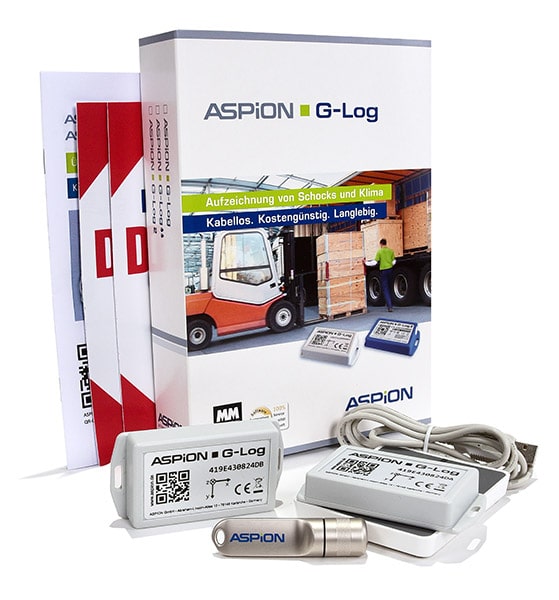 An ASPION G-Log starter package contains:
2 shock data logger
USB card reader
sticker "data logger inside"
Software and App
starts from 219 Euro
Simply select your suitable sensor for the protection of your valuable goods in the data logger product comparison and start today with smart transport monitoring!