More transparency in the supply chain - transport monitoring with ASPION data loggers
Sensors for shock, temperature and humidity provide more transparency, safety and quality control
When shipping goods and merchandise, a falling crate can quickly have costly consequences. Unintentional shocks or vibrations too often lead to damage to the goods being transported. Good if you have taken out transport insurance in such cases. However, this only applies if the damage incurred can be proven accordingly.
The ASPION G-Log shock sensor makes this complete and safe recording of transport events possible. The cost-effective data logger records discreetly and permanently critical transport events - from falls to vibrations to noticeable temperature or humidity fluctuations.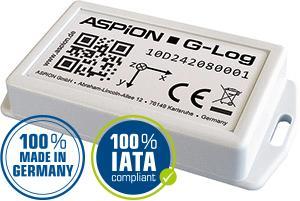 The advantages at a glance
Three variants for flexible use
The data logger is available in the standard version ASPION G-Log, a waterproof version "Waterproof" and in the new generation ASPION G-Log 2 with additional humidity sensor. All ASPION G-Log shock sensors can be discreetly and inconspicuously attached to all goods thanks to their ultra-compact, small housing. The ASPION G-Log Waterproof Shock Sensor is splash-proof and dustproof. This data logger is IP65 rated and easily withstands harsh environmental conditions. New is the ASPION G-Log 2 with shock and climate data recording as well as NFC and Bluetooth communication.




The handling of the shock sensors is designed for maximum user-friendliness. The sensors are initialized with individual threshold values and - if required - activated time-controlled before they are attached to the transported goods. During transport, all events outside the tolerance range are recorded. The stored data can be read out wirelessly via Smartphone App at any time and sent by e-mail for evaluation. Alternatively, the sensor can be read out using the included PC software with USB card reader and then be analyzed.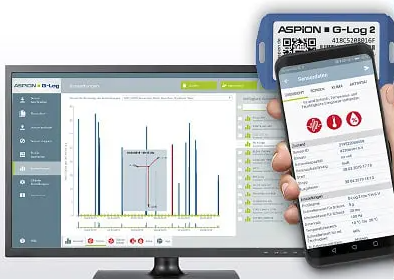 With the software service G-Log Premium, a function extension for the G-Log data loggers is now available. The cloud-based software service enables the fully automated transmission of recorded events as well as the current GPS position of the transported goods and merchandise to a cloud memory using a smartphone app. In the cloud, the data is processed additively and is available for further analyses and for tracking transport sections. Due to the almost unlimited storage space in the cloud, even extensive transport data can be processed and evaluated without additional costs for hardware and infrastructure.
Transport monitoring in a nutshell
Protocolling shocks and climate data
Expressive user-friendliness for satisfied customers
The basis for the development of shock sensors and software services is always the pronounced user-friendliness. The sensors can be operated safely even by untrained persons after a short briefing and convince by their high, flexible and individual adaptability to all needs in industry and transportation.