Transport data logger ASPION G-Log 2:
Transparency for your supply chain!
ASPION G-Log 2 records shock and climatic conditions
The new transport data logger ASPION G-Log 2 measures and records shock events - traceable in all three axes and for the highest shocks up to millisecond level. At the same time, it records climate data such as temperature and relative humidity based on intervals or events. This makes the transport loads and environmental conditions for your goods transparent, traceable and assignable at all times - especially in the event of damage. Reduce costs for transport damage and increase your process quality!


ASPION G-Log 2 Waterproof
The waterproof version of the G-Log 2 is suitable for outdoor applications with protection class IP65/67.
First data logger for monitoring shock/vibration according to transport standard
The shock/vibration test according to the transport standard IEC 60721-3-2 is unique: The data logger compares shocks and vibrations against the selected standard and class. For the first time, this makes testing transport conditions as easy in practice as, for example, proving compliance with a cold chain!
This results in real added value for companies: for the first time, transport damage can be detected cost-effectively even without specialist expertise. For its innovative implementation, the ASPION G-Log 2 was awarded the Best of Industry Award 2022 as the winner in the sensor technology category.
The advantages at a glance
The shock and climate data recording of the transport data logger
ASPION G-Log 2 provides meaningful details: Serious damage can be detected directly! The short video explains the details.
Fields of application
The new ASPION G-Log 2 - just like its little brother ASPION G-Log - has been specially developed for the transport monitoring of sensitive goods and products. The transport data loggers collect valuable information especially for manufacturers in the machine and plant construction, automotive and electronics industries, energy sector as well as logistics and packaging industry. In addition, the data loggers are successfully used by companies in a wide range of industries for testing packaging, shocks during loading, vibration tests and much more.
With the option to switch off shock recording and the intelligent recording of climate data such as temperature and relative humidity - interval and event-triggered - the data logger is suitable for checking temperature and humidity-sensitive products during transport and in the warehouse.
How it works
The ASPION G-Log 2 data logger is attached directly to the transported goods, initialized with threshold values and activated immediately or time-controlled. During the entire transport route, it stores events that occur: Shocks, temperature and humidity fluctuations that lie outside the preset tolerance limits - or permanently within the set interval. Equipped with NFC and BLE for wireless communication, the data can be read, evaluated and transmitted at any time using the smartphone app. The analysis of the data is carried out conveniently with the free PC software.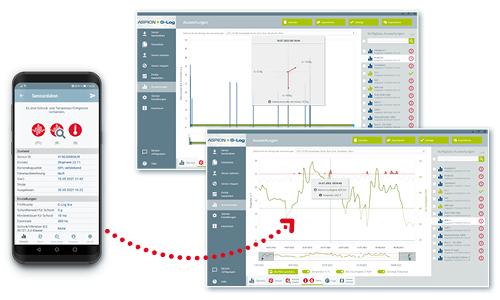 (Video in German language)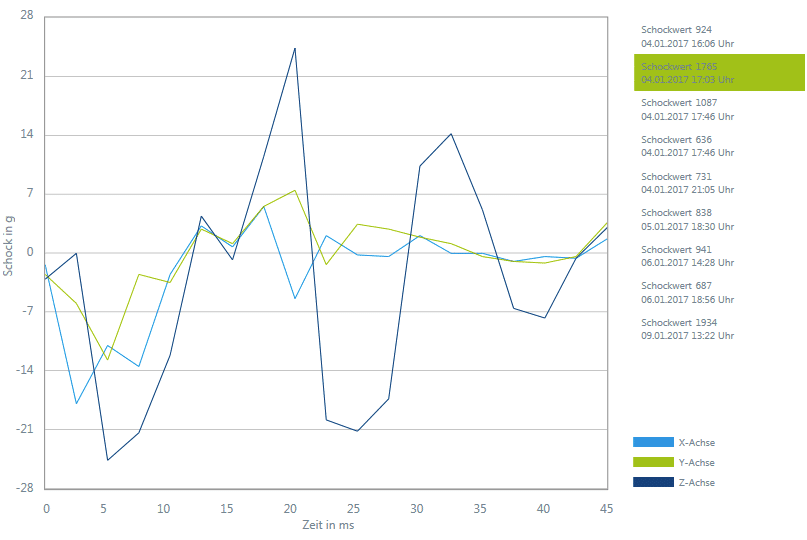 Meaningful details at millisecond level
New: Activation now also possible via app
ASPION G-Log 2 shock and climate loggers can be activated flexibly, quickly and easily directly via smartphone app for the first time with the new version 6. The activation takes place in interaction with the cloud service ASPION G-Log Premium. This means that you receive each new activation automatically in your PC software. You thus retain full control and transparency over all data loggers used at all times and from any location.
The ASPION G-Log 2 starter package contains:
2 data loggers for shock and climate
1 USB card reader
2 sticker "data logger inside"
Software and App
Price: 289 Euro *
Order your starter package now and protect your goods.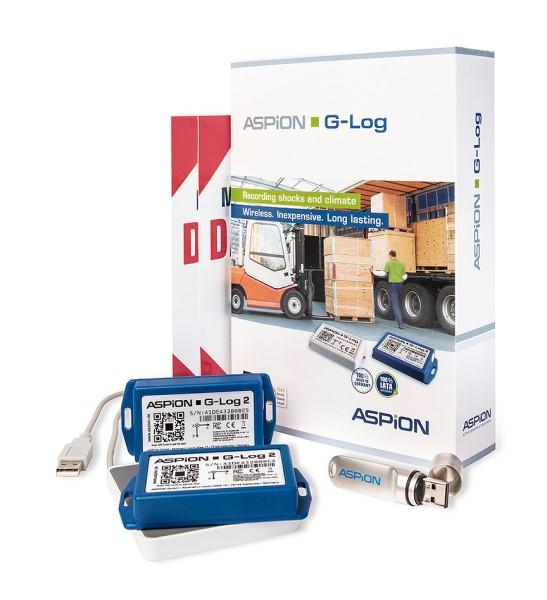 Currently all data loggers are available from stock.
Sets with bulk discounts are available for further expansion.
* Please note that all prices are exclusive of taxes, customs duties and shipping costs. Actual prices and delivery times may vary depending on region, country and currency. For details, please contact our respective distribution partners directly or send us an inquiry to info@aspion.de.