Transparency and Security in the Supply Chain: Digital Shock Recorder
ASPION G-Log Shock Sensor
The robust, durable and cost-effective shock sensor ASPION G-Log enables the complete recording of vibrations, shocks and temperature data during the transport of goods and merchandise. The small, compact housing design complies with IP 50 standards and the shock recorder can be adapted to all individual requirements.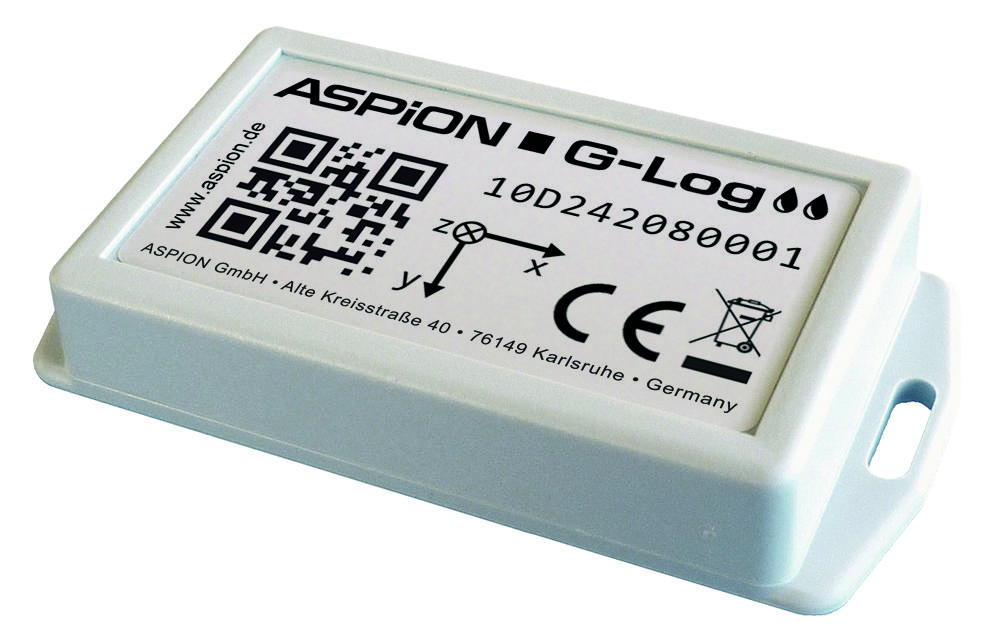 ASPION G-Log Waterproof
The weatherproof variant of the G-Log in IP 65/67 housing is suited for diverse transports outside.
The advantages at a glance

Reliable
Records vibrations up to ± 24 g as well as prevailing temperature conditions according to the event principle.

Compact
The extremely small and compact housing design allows discrete use.

Durable
The shock sensors are suitable for multiple and one-way use with their long battery life and high shelf life.

Inexpensive
Very favourable price/performance ratio for a convincingly favourable investment in increased transport safety.

Simple
The commissioning takes place with indication of threshold values and time-controlled recording.

Ergonomic
An ergonomically operable PC software facilitates the operation and readout of the acquired data.

Flexible
The recorded data can be read out via PC or smartphone app from any location.

Air Freight & Industries
The G-Log shock sensor is suitable for air freight and can be used universally in all industries.
Made in Germany
Completely developed and manufactured in Germany.
What is important when proving transport damage? How can serious damage be detected? This short video  explains it clearly!
Wide range of applications
The ASPION G-Log shock sensor was specially developed for the transport monitoring of sensitive goods and products. The shock recorders are used in particular in mechanical and plant engineering, in the automotive and electronics industries as well as products in the energy sector such as transformers, inverters as well as in the logistics and packaging industry.
They are also used for testing packaging, detecting impacts during setting down or loading processes, load testing in automated warehouses or vibration tests and many other applications ... everywhere ASPION G-Log shock recorders are successfully used in the industry.
The special feature: The shock details show whether serious damage has occurred. This is shown in the short explanatory video!
The G-Log shock recorder is attached to the transported goods before shipment, initialized with threshold values and activated. Throughout the entire transport route, the shock recorder stores events such as shocks, vibrations or temperature fluctuations that occur outside the preset tolerance limit. The recorded data can be read out and automatically transmitted at any time using a smartphone app or PC software and USB card reader.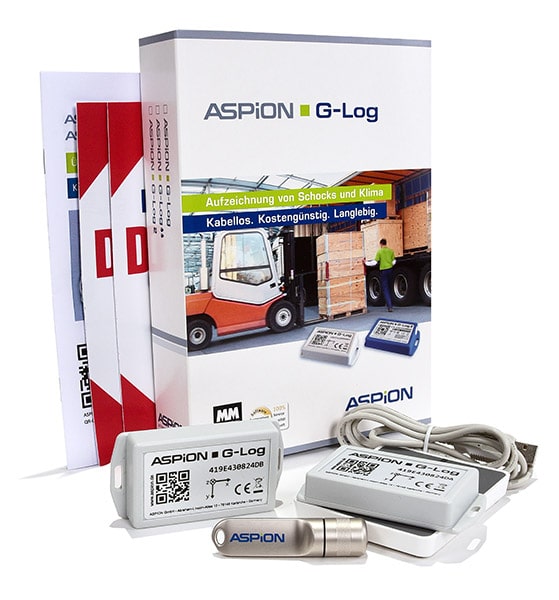 The ASPION G-Log starter package contains:
2 sensors
USB card reader
sticker "data logger inside"
Software and App
for 219 Euro *
Order your starter package now and protect your goods.
Currently all data loggers are available from stock.
Sets with bulk discounts are available for further expansion.
* Please note that all prices are exclusive of taxes, customs duties and shipping costs. Actual prices and delivery times may vary depending on region, country and currency. For details, please contact our respective distribution partners directly or send us an inquiry to info@aspion.de.