Press release 21.10.2020
The new G-Log Manager from Aspion
More transparency in transport operations
Aspion GmbH, the specialist for sensor-based transport monitoring, has released version 4 of its PC software "ASPION G-Log Manager". This software is used to parameterise all shock sensors in the "ASPION G-Log" series and to manage and analyse the data obtained. The system consisting of data loggers, PC software and smartphone apps has established itself on the market in a short time as a reliable and cost-effective transport companion. The new version 4 of the G-Log Manager offers users more options and security when operating the versatile data loggers.
Transparency at a glance
G-Log sensors record when limits are exceeded due to vibrations, shocks and climate data such as temperature and humidity. The user defines the threshold values individually for each application. The G-Log Manager visualises the recorded events and illustrates them in charts. Version 4 scores with comprehensive and clear evaluations. Aspion Managing Director Martina Wöhr: "The new world map, for example, is very attractive. On it we visualise existing location data from a readout process. Also new is the usage list with status report. It shows the person responsible for transport at a glance which data loggers, which are on the road, have already been evaluated."
Manipulation safety and flexible control
The configuration program is also new, making it easier to set up and control network installation, archive functions and language settings. "By the way, the new software detects every attempt to manipulate the data. This strengthens the confidence, especially that of transport insurers, in the integrity of the event data obtained," says Wöhr.
From now on, all data loggers can be operated with a data rate of 1,600 Hertz. This is necessary for the detection of very short vibrations, for example when transporting light and very sensitive goods. The high data rate is also an advantage in the development and optimization of packaging.
Users can download the new version of G-Log Manager free of charge from the Aspion customer portal. In conjunction with the updated smartphone apps, users can immediately enjoy all new functions.
Image for online media (RGB)
Download: Click on the picture
Image for print media (CMYK)
Download: Click on the picture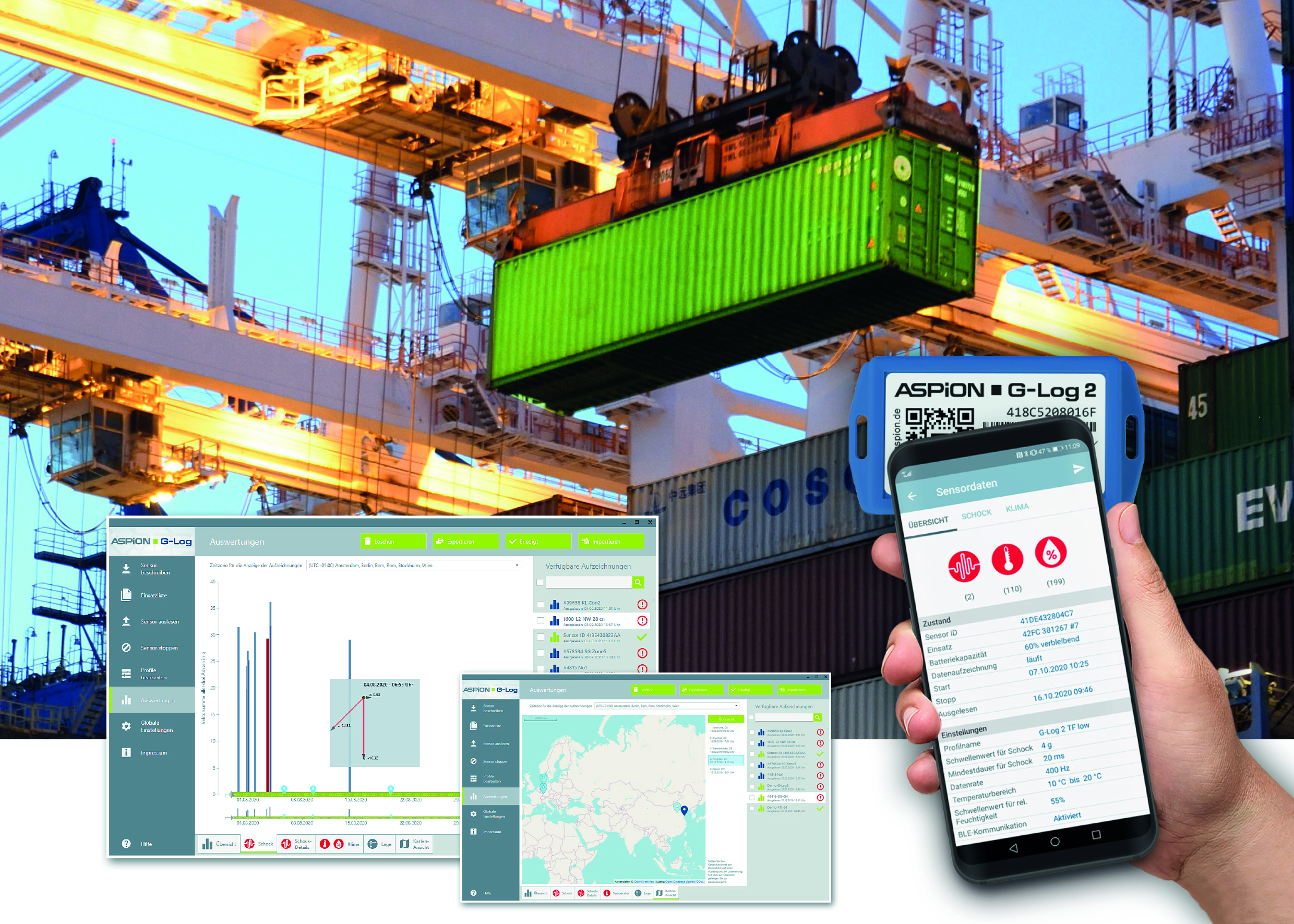 More transparency throughout the entire transport chain: the G-Log system from Aspion is now available in the new version 4.
Use of the image material for editorial purposes is free of charge. Please reprint with reference "ASPION".