Jubilee offer and innovation award - celebrate with us!
Jubilee campaign ended on 31.12.2021.
Together with you we want to celebrate: 10 years of ASPION, 5 years of data logger ASPION G-Log and the excitement of being awarded the prestigious Innovation Award Baden-Württemberg 2021.
For the transport of your goods you want to play it safe now? And reliably detect transport damage caused by impact or corrosion? Then start now at a particularly favorable price.
Get up to 10% jubilee discount on your order until December 31, 2021.
We will be happy to deliver either immediately, or at the latest on your desired date by 28.02.2022!
Benefit now - like already 500 other companies - from the advantages with the digital ASPION data loggers:
Easily detect damage from shock/impact, corrosion or temperature
Vibration testing against European transport standard IEC 60721-3-2
Saves costs, time and avoids discussions
Invest now in the multiple award-winning and sustainable data loggers ASPION G-Log "made in Germany".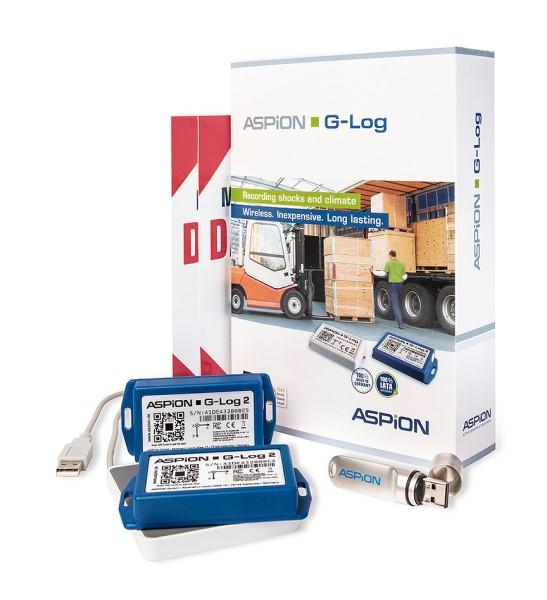 Promotion period until 31.12.2021
Your start: 5 % on all starter packages or for individual purchase
Your extension: 10 % on all sets with 25, 50 or 100 data loggers
Delivery either immediately or on the date of your choice latest on 28.02.2022*.
You put together the number of data loggers you need according to your individual requirements.
Jubilee discount - your individual offer
We would be pleased to make you an individual offer! Please contact your supervising partner, call us at
phone +49 721 / 85149-122 or write to us at info@aspion.de. We are happy to advise you at any time.
*The jubilee offer is valid for all orders up to and including 31.12.2021. Delivery will be made in the current version on the requested delivery date, but no later than 28.02.2022. Invoicing will take place after delivery. The offer is not valid for premium, USB card reader, general overhaul or services and cannot be combined with other offers, discounts or promotions. Subject to change and errors excepted.