Mechanical engineering and energy technology: new testimonials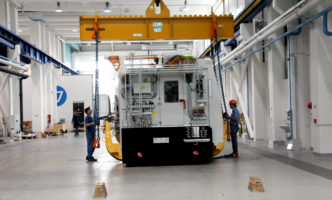 Whether for monitoring global machine transports or for transport monitoring of sensitive energy technology with regard to shocks and climatic conditions - the ASPION G-Log data loggers are used in a wide variety of industries and application scenarios. We are most pleased to receive positive feedback from satisfied users. Can we continue to meet the needs of our customers for years to come? What benefits of the ASPION solution are most important to users? Find out more now in the new customer testimonials.
Maximilian Mayer, Project Manager Transport and Shipping at Erwin Junker Maschinenfabrik GmbH praises the exceptionally simple handling of the ASPION solution: "For each machine type, we have predefined a suitable profile in the ASPION PC software, so all that needs to be done when deploying it is to select it - this is very easy to do."
Bernhard Sporleder, Project Coordinator at VOLLMER WERKE Maschinenfabrik GmbH acknowledges the validity and detail level of the records: "Previously used one-dimensional shock indicators provided neither time stamps nor evidence. [...] The meaningful shock details in milliseconds and the consistently simple handling including problem-free installation have completely convinced our employees and customers."
Ulrich Wiewel, Head of Test Field Quality Assurance at Keller HCW GmbH highlights in particular the high environmental friendliness and the market-leading price-performance ratio of the ASPION G-Log 2: "A very big advantage is also the replaceable battery of the data logger, which is a significant contribution to sustainability. The favorable price ultimately rounds off the system."


All statements in full length and further customer testimonials.
Overview of further fields of application.