20.09.2017 - Indirect sales of shock sensors expanded
ASPION GmbH, a Karlsruhe-based company specializing in the development and marketing of energy-optimized sensors for industry 4.0, has recently entered into a strategic sales partnership with system supplier and engineering service provider IBS. The G-Log shock sensor developed by ASPION for transport monitoring is now included in the sales portfolio of the IBS Group. The sensor is to be distributed to companies in the mechanical and plant engineering industry with shock- and temperature-sensitive components.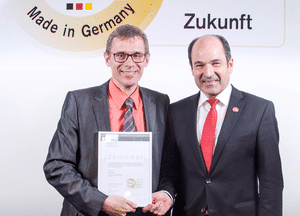 27.03.2017 - User-friendly, flexible and smart: ASPION G-Log Software
"Made in Germany" stands for high quality, high performance and a secure future. ASPION GmbH from Karlsruhe has now been selected by the Bundesverband IT-Mittelstand e.V. (Federal Association of IT SMEs). (BITMi) with the seal of approval "Software Made in Germany". BITMi Vice President Martin Hubschneider presented the seal of approval to Michael Wöhr, founder and managing director of ASPION GmbH at CeBIT. According to Hubschneider, the ASPION G-Log Manager software and the associated smartphone app for controlling the shock sensors are characterized above all by user-friendliness, flexibility and a sophisticated, smart design.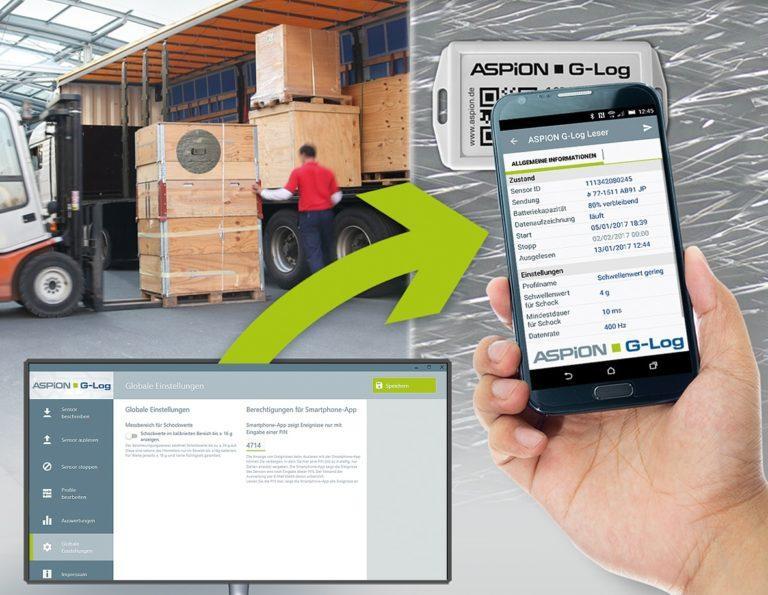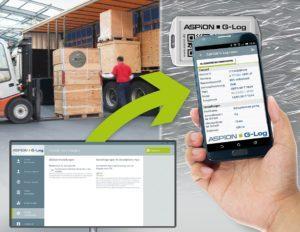 24.01.2017 - Smart and flexible: Transport monitoring with shock sensor ASPION G-Log
Transports do not always take place without incidents and sensitive goods arrive damaged at their destination. The digital shock sensor ASPION G-Log provides more transparency: It records with pinpoint accuracy when shocks or critical temperature events occur. The Karlsruhe-based manufacturer is now presenting the new Version 2 of the PC software ASPION G-Log Manager and the Smartphone app, which make use of smart functions even more flexible: Time-controlled stop function, optional shock values up to ± 24 g and PIN protection for detailed views when reading out with the smartphone app.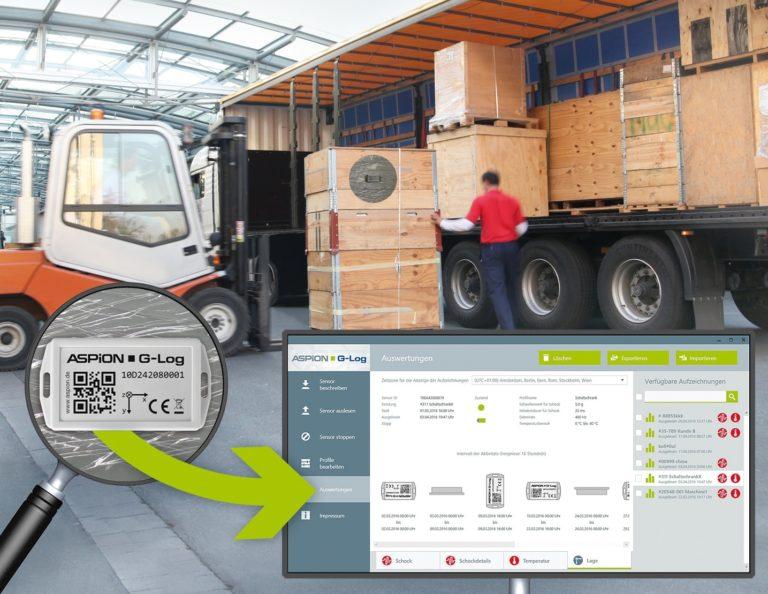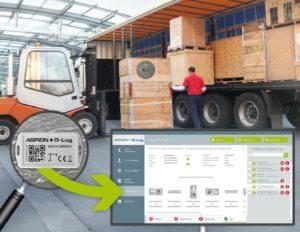 05.07.2016 - ASPION G-Log in new version 1.5
During the transport of sensitive goods, damage occurs again and again. The digital shock sensor ASPION G-Log, which was introduced in January 2016, records vibrations or critical temperature events with high accuracy. In the new version 1.5, the Karlsruhe-based manufacturer ASPION presents a series of new functions such as the location visualization or the creation of a clear PDF report. The customers receive the new version as well as further valuable information immediately over the again opened ASPION customer portal, attainable over the enterprise web page www.aspion.de.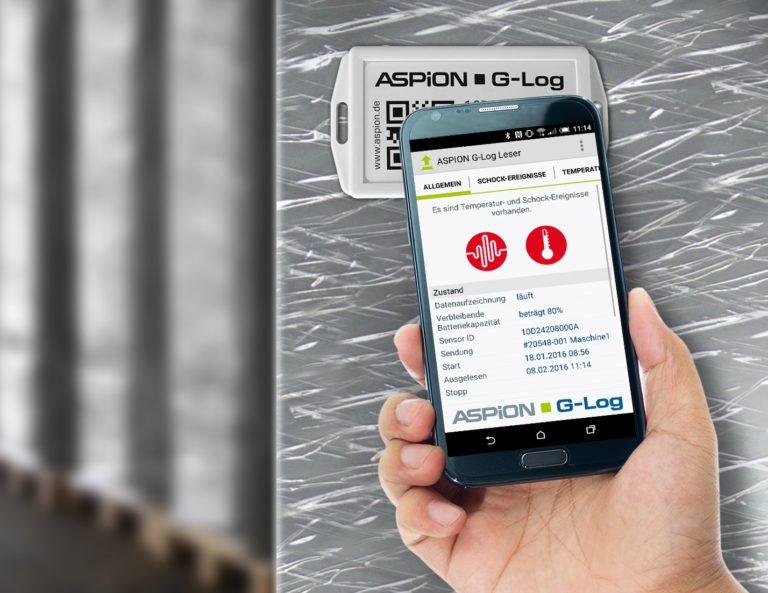 17.02.2016 - Preview on the LogiMAT
It happens again and again during transport that valuable goods are damaged. The new digital shock sensor ASPION G-Log records the exact time when shocks or critical temperature events occur. Recorded shock and temperature values can now be read out wirelessly via Smartphone app (Android from version 4.1) from the sensor via NFC. The new shock sensor ASPION G-Log with PC software and the preview of the app will be presented by ASPION partner BARCODAT for the first time at LogiMAT from 8 to 10 March in Stuttgart in Hall 4, Stand 4C31.
21.01.2016 - Transparency in transport damages
The new digital shock sensor ASPION G-Log records the exact time when shocks or critical temperature events occur. It records shocks with accelerations of up to ± 16 g across all three axes as well as temperature values with date and time according to the event principle: The sensor therefore only supplies data when the specified threshold values are exceeded or not reached. The PC software ASPION G-Log Manager is used for commissioning and evaluation of the shock sensor. Data is transmitted wirelessly via NFC (Near Field Communication). The ASPION G-Log shock sensor is now available for 69 Euro net from the manufacturer.