17.11.2021 - Versatile shock data logger for comprehensive transport monitoring
ASPION receives Baden-Württemberg Innovation Prize 2021
ASPION GmbH has been awarded this year's Baden-Württemberg Innovation Prize. On 16 November 2021, Baden-Württemberg's Minister of Economic Affairs Dr Nicole Hoffmeister-Kraut presented the Baden-Württemberg Innovation Prize to ASPION's managing director duo Martina and Michael Wöhr at the Haus der Wirtschaft in Stuttgart. The €50,000 prize is awarded annually to small and medium-sized companies for the outstanding development and application of new technologies. ASPION received the award for its intelligent data loggers, which monitor shock-sensitive goods for possible transport damage and thus ensure a smooth supply chain. The Karlsruhe-based company was chosen from over 110 applicants for the coveted award.
21.07.2021 - Transparency according to standard with shock/vibration test
The "Aspion G-Log 2" data logger from Germany-based Aspion GmbH is the first shock recorder on the market to implement the continuous shock/vibration test of the European transport standard EN IEC 60721-3-2:2018 with its classes 2M4 / 2M5 / 2M6 during transports. This standard specifies the common environmental influences to which products may be exposed during transport in their ready-for-shipment form. "Reliably detecting transport damage, verifying it simply and transparently according to recognised and agreed on rules in order to minimise risks and avert costs – this is no longer a pipe dream for supply chain managers and quality managers.
21.06.2021 - Karlsruhe-based ASPION GmbH celebrates its 10th anniversary
"Shock sensors for monitoring the transport of sensitive goods were already available in 2011, but they were far too expensive, cumbersome to handle and impossible to operate without specialist knowledge," explains graduate engineer Michael Woehr, who founded ASPION GmbH in Karlsruhe ten years ago. Together with his wife, the entrepreneurial couple wanted to do better than the competition. Today, the two see their corporate philosophy confirmed. The breakthrough came five years ago with the in-house development of the "ASPION G-Log" shock sensor. The scope of performance, depth of detail and price of the compact and practical data logger are unique worldwide.
21.10.2020 - The new G-Log Manager from Aspion
Aspion GmbH, the specialist for sensor-based transport monitoring, has released version 4 of its PC software "ASPION G-Log Manager". This software is used to parameterise all shock sensors in the "ASPION G-Log" series and to manage and analyse the data obtained. The system consisting of data loggers, PC software and smartphone apps has established itself on the market in a short time as a reliable and cost-effective transport companion. The new version 4 of the G-Log Manager offers users more options and security when operating the versatile data loggers.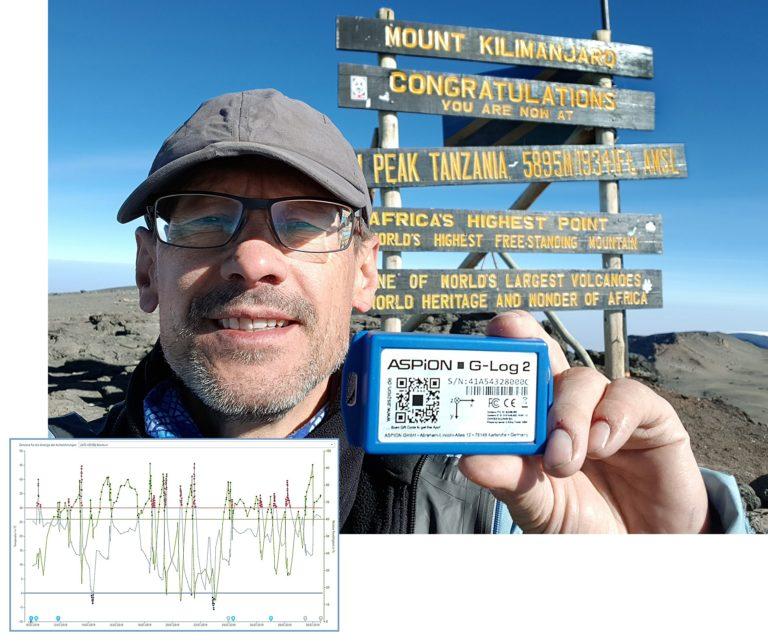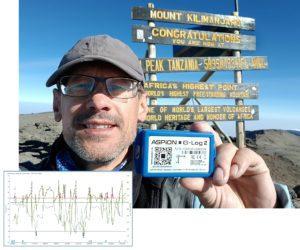 14.08.2019 - FachPack 2019: New transport data logger passes extreme field tests
Karlsruhe-based ASPION GmbH is playing it safe: Before the "ASPION G-Log 2", the latest generation of its award-winning transport data logger, is delivered in autumn 2019, the devices will be put through their paces in real tests. The sensor has proven its reliability on selected truck transports within Europe, several sea transports, e.g. to South Africa, and most recently on a mountain tour to Kilimanjaro. A glance at the evaluation shows that the sensor had precisely recorded the extreme fluctuations in temperature and humidity on Africa's highest mountain.
07.05.2019 - transport logistic and Sensor + Test in June 2019:
ASPION Presents New Generation of Data Loggers
Anyone wishing to have better cards in the event of disputes over transport damage can have their transports monitored by specialised data loggers. At the two trade fairs 'transport logistic' and 'Sensor+Test' in June, the Karlsruhe-based sensor manufacturer ASPION will present its G-Log system, which allows a differentiated view of the circumstances during transport. The central element and this year's highlight is the new multifunctional data logger ASPION G-Log 2. It provides precise information on shocks, temperature and humidity during the often week-long multimodal transports and communicates wirelessly via NFC and BLE with software and smartphone apps.
13.02.2019 - Digital tool: Live operating data thanks to intelligent sensors
The Karlsruhe-based company ASPION is known in the transport and logistics industry for its smart transport monitoring solution G-Log. The sensors developed by ASPION monitor goods on the transport route and digitally record shocks and climate fluctuations. Now the smart sensor technology "made by ASPION" is also being used in the manufacturing industry: It provides live operating data of the milling and spindle head solutions of the Vaihingen-based family company ROMAI Robert Maier GmbH.
14.01.2019 - LogiMAT 2019: ASPION presents latest generation of its sensor solution G-Log
Wherever goods are moved, they are exposed to external influences. If extraordinary events occur, the causes and circumstances usually remain hidden. This is where data loggers provide information: like a flight recorder, they record unusual events at precisely the right time. ASPION's new generation of data loggers at LogiMAT in Hall 6, Stand A64, will demonstrate the benefits that companies can derive not only from transporting goods but also from intralogistics.
14.11.2018 - Two Awards for Smart Transport Monitoring
"100 % service, 100 % quality, 100 % future" - these are the main characteristics on the basis of which the Bundesverband IT-Mittelstand (BITMi e.V.) awards its seal of approval every year. On November 9, 2018, ASPION GmbH was awarded the seal for the second time in a row for the software and apps of its sensor solution ASPION G-Log for smart transport monitoring. Just two days earlier, ASPION was a finalist at the Arrow Innovators Award.
08.08.2018 - Transport data logger extended by climate data, BLE and more memory
ASPION GmbH presents the new generation of its shock sensor for transport monitoring at Fachpack: In addition to the time-accurate, broken down 6-axis recording of shocks, the G-Log 2 now also logs climate data. The new G-Log 2 transport data logger has a memory volume that is three times larger than that of its little brother G-Log. It is also capable of NFC wireless communication as well as BLE. ASPION presents its smart sensor solutions in hall 3A at booth 3A-552.
08.12.2017 - Apple opens NFC interface
For the first time in the history of the iOS operating system, Apple released the interface for short-range radio (NFC) for third-party applications in mid-September. This decision enables the use of an iOS App with NFC for industrial applications. The company ASPION GmbH, known for shock sensors for logistics and industrial applications, has directly used the release of the interface and now enables its customers to read their shock sensors with Apple smartphones.
24.10.2017 - New products for more transparency in transport monitoring
The Karlsruhe-based company ASPION is expanding its product portfolio with immediate effect with a waterproof version of its shock sensor ASPION G-Log and a cloud-based service for automated, digitalized monitoring, tracking and analysis of the sensors used. The company thus meets the needs of its export-strong customers from the machine and plant construction industry and takes a further step towards Industry 4.0.